Services
AL-SUS Industries has the competence personnel possessing proficiency expertise with impeccable qualifications, in participating research and development projects, testing sessions and welcoming challenges.
VISION GLASS
The vision glass panel was designed and proposed by us that has been selected and successfully adopted in all subsequent HDB lift's landing and car doors. With the Fourth Revision of Singapore Standard CP 2, re-numbered as SS550: 2009 (formerly CP 2). We have also successfully developed a fire resistance German Swiss glass of Class A that is applicable for lift landing doors which is in compliance with the Fourth Revision of CP 2, re-numbered as SS550: 2009 (formerly CP 2).
Other than fabrication and installation, our experienced team are able to propose solutions and customisation to suit complex profiles and interfacing. With our experience and knowledge in sheet metal fabrication, we also offer proposals of most appropriate materials to be used to suit the project profiles and requirements.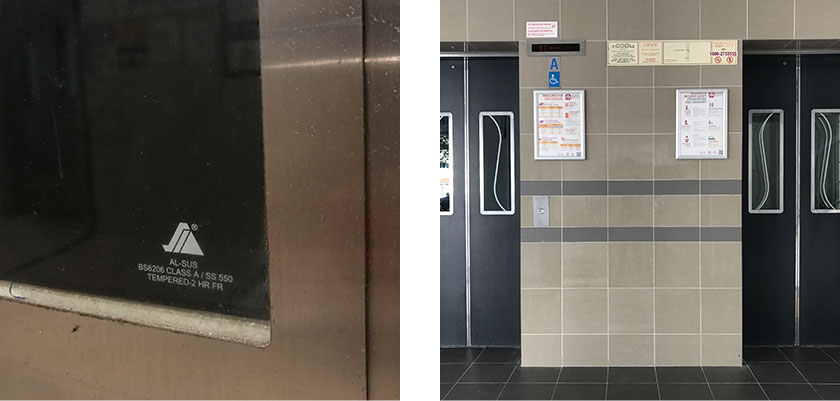 CANOPY
The glass canopy at the Fullerton Hotel is customised especially for the restored building which was originally built in the 1920s. The cantilevered glass canopy has been carefully designed for against wind uplift, fabricated and installed with a great degree of expertise in order to achieve its current profile. It was then a one-of-a-kind canopy during the restoration in the year 2000, with glass panels unconventionally installed below the spiders fittings instead of sitting on top of them. Free-fall test have also been carried out to affirm its stability, performance and safety.