Foot Pedal Sanitizer Dispenser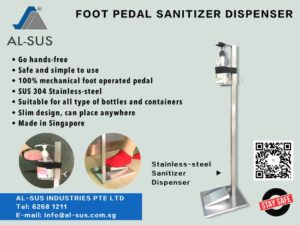 Amid COVID-19 situation, hand sanitizing has since became a vital and important step in our daily lives. As we enter into phase 2, it is therefore of utmost importance to ramp up hand sanitizing to disinfect our hands to keep the virus out of bay.
Conventionally, we have been using our hand to press the lever from the bottle to sanitize our hands.
We had designed a hands-free foot pedal sanitizer dispenser. You can simply step on the foot pedal and the sanitizer will be released without the need to press the lever with your hands! It's contactless and hence eliminates transmission of virus.  It's easy and safe to use. With its slim design, it is suitable to be placed anywhere, most appropriately at common and public areas such as door entrances, registration counters, offices, classrooms, meeting & facilities areas, retail shops, cashier etc. To find out more and to order, Contact Us and we are happy to do our part.
Base size: 250mm x 175mm
Height: 1M
Weight: 3kg